Here is a table of contents for this page. You can scroll down slowly, getting everything you can from our content. Or, you can click on a link below and it'll take you to that specific section.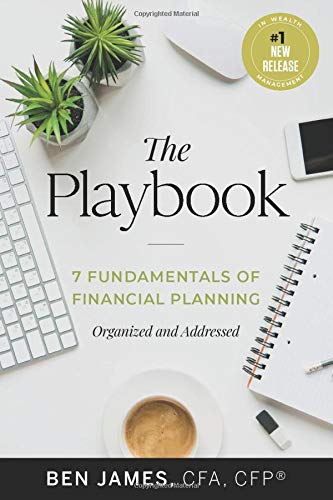 Learn about the playbook process at your own pace by reading the book about the book.  
Or, continue down the page and watch the videos!
An Introduction to the Playbook Process
Click on the video below to see how the our Playbook can elevate your financial plan.
There really are two things that sets us apart from other financial advisors. The first is our Playbook Process, as outlined below. The second is striving to reduce unnecessary risk. Click here to see the second.
Drawing upon our decades of financial services experience, we have developed our proprietary Playbook Process – a structured method for getting your financial household in good order. We work with you to create your personalized Playbook, but you get to take it home. It's not the typical financial plan, based on assumptions about the future—most of which will end up changing within the next year. Instead, our Playbook Process turns over every stone in your financial household to uncover any conditions that could derail you from your financial goals.
Clients tell us all the time that they used to have a few drawers just filled with old documents from their bank and insurance policies and overall estate. With their Elevate Playbook, however, they have a way to keep everything current, organized, and in one manageable spot.
Do you have a system in place to house all of your financial statements and estate documents? Do you have a process to make sure that your overall financial household is in good shape? This page is full of resources so that anyone can watch these videos and create their very own Playbook.
---
Most Valuable Players – Contact List
When we first created the Playbook, clients suggested we call it their "lifebook" or "deathbook" as we incorporated, for client beneficiaries, a contact list of "most valuable players" in clients' financial lives. We ultimately referred to our process as a Playbook, because it goes far beyond information for your beneficiaries. The playbook is for you and your estate right now, but it's also just as important for your beneficiaries.
While this isn't one of the seven fundamentals to financial planning, it is important to your overall financial plan. As such, we have it as the very first page of the Playbook. Watch the video below to learn how it helps you now and your loved ones later.
---
The First Fundamental of Financial Planning: Goals And Objectives
If we can't repeat what your goals are back to you, then we're not listening.
At Elevate, we listen. We then articulate your goals back to you with our Investment Objectives Statement: We address your time horizon, your risk appetite, what you want to do with your wealth, etc. We review and update this periodically to make sure that we understand what you're looking for.
The rest of your financial plan will be affected by this section – so it's important to start here and make sure that you take the time to get it right. In this case, the first fundamental of financial planning really is number one. The other six fundamentals flow from this one. Watch the videos to get started on or tighten up your Goals and Objectives!
---
The Second Fundamental of Financial Planning: Financial Statements
Do you have an updated Net Worth Statement? Are your assets registered appropriately?
At Elevate, we consider your Net Worth Statement to be a cornerstone of your financial household. How your assets are registered can mean the difference between what is actually in your Trust and what is not, or what bypasses Probate and what does not.
Here is what we use to document your Net Worth:
Here is what we use to document your Cash Flow:
Watch this video series to learn how to create your own Net Worth Statement, Cash Flow Statement, and know how to deal with all those statements that get sent to you every month.
---
The Third Fundamental of Financial Planning: Estate And Legal Docs
Do you have an updated Will and/or Trust? Do you remember all the intricacies of that Will or Trust you established 10 years ago?
At Elevate, we create a one-page summary of your Estate Planning Documents so that you don't have to dig through articles 7-9 every few years to remind yourself how the "Beneficiary Instructions to Minors" works.
Watch this video to learn what goes inside your Playbook, as well as some important considerations regarding your overall estate plan.
---
The Fourth Fundamental of Financial Planning: Insurance Review
Even though we don't sell insurance, we want to ensure that you are appropriately insured.
At Elevate, we will review your Insurance Policy Details. You'd be surprised how many times we find clients who want to be minimally insured, but who are significantly over-insured, and vice-versa.
Knowing what you have, how to track it, and how to manage it is going to help you make good decisions. Watch the video below to see how we view insurance and for our top important considerations for your Playbook and your Insurance.
---
The Fifth Fundamental of Financial Planning: Taxes
At Elevate, we can work directly with your tax professional to help eliminate any confusion. This doesn't help slow the amount of mail that you receive every month, though. Therefore, discerning what tax documents to look for vs. which you don't need to be concerned with can be an invaluable skill. Watch the video below to see how the Playbook can help you get on top of your tax documents while preparing for tax time.
---
The Sixth Fundamental of Financial Planning: Performance
Are your fees paying for themselves? Are you on track according to your goals? Are you in a boat that is rising with the tides (in other words, where are you relative to others)?
At Elevate, we make sure that your performance is not only in line with your goals, but also keeping you competitive. Watch the video below to make sure that you're asking the right questions regarding your performance.
---
The Seventh Fundamental of Financial Planning: Social Security
Do you know when you want to start drawing from Social Security?
Do you know the implications of waiting?
Do you know how Social Security will affect your taxes?
Are you aware of specialized strategies?
Are you tracking and planning for maximizing your Social Security Benefit(s)?
At Elevate, we do.
Understanding the different options you might come across when considering Social Security and Pensions can have a huge impact on your actual retirement. Watch the video below to make sure you understand how timing your different retirement sources can mean everything.
---
The Miscellaneous Section and Closing Thoughts
While we firmly believe in the seven fundamentals of financial planning, there will sometimes be something that just doesn't quite fit. A letter to your child, special instructions for your pet, the secret location of your safe, etc. (see the list below for our top 100 ideas). For these things, we have the Miscellaneous Section. This way you can keep the seven fundamental sections clean and organized. Watch the video below to see how the Playbook can keep track of more than just your numbers.
And with that, you have made it to the end – Congratulations! It is our hope that you now have all the tools you need to get started on getting your financial household in good order. Remember that this is a process, though. Don't get discouraged if you don't get it all done in a week. Take your time, and make sure you really understand each of the seven fundamentals to financial planning before moving on to the next one. If you'd like more resources, click the link on the top of the page that reads "Register for Upcoming Playbook Webinar." We host a Seminar Series every quarter that focuses on two of the seven fundamentals of financial planning. We'd love to see you at our next Seminar!
---
Do you want to see the rest of the Playbook Process and how it can help your family?